Anti-Wrinkle Treatments 
Commonly known as Botox
A treatment that takes very little time to perform, anti-wrinkle injections have very quickly become one of the most popular treatments in aesthetics. No recovery time is required and anti-wrinkle treatments are both safe and effective. The following areas are commonly treated;
Frown lines

Forehead wrinkles

Crows feet

Smokers lines
Dermal Fillers
Made of Hyaluronic Acid which is a naturally occurring substance, dermal filler treatments can contour and create volume, fill out lines and wrinkles and revitalise the face. The result of dermal fillers can be seen instantly. As with Botox, filler treatments are safe and require no recovery time. The following areas are commonly treated;
Lips

Nose to mouth

Corners of the mouth

Cheeks

Frown lines
Chemical Peels
Medical grade peels are an incredibly popular treatment which sees amazing results. Peels resurface, remodel and improve the appearance of the skin, leaving the skin feeling smoother and looking radiant. Peels can also significantly reduce the appearance of fine lines, pigmentation, scars and sun damage.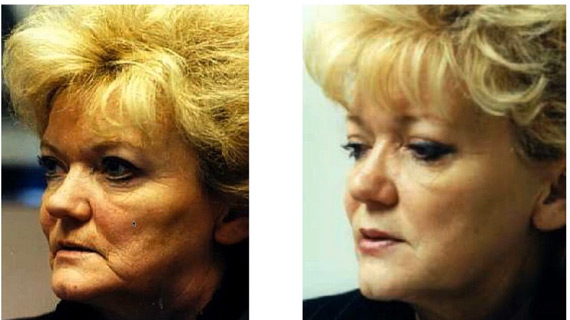 Profhilo
Profhilo is not a dermal filler it is a hyaluronic acid gel, one of the latest innovations to treat skin laxity by skin bio-remodelling. Profhilo is a skin booster made from hyaluronic acid for skin that is losing its elasticity and firmness with age. It creates a fresh natural look and softens fine lines.
Vitamin B12 Injections
Vitamin B12 is an essential, water soluble nutrient for vitality and wellbeing. Benefits of Vitamin B12 injections include but are not limited to a healthier cardiovascular and immune system, improved sleep patterns, mood and energy levels, and an improvement in 'brain fog'.
Slim Body Mesotherapy
Developed by L'aesthetic, Slim Body has been clinically shown to activate lipolysis and reduce fat and cellulite. Slim Body is unique by achieving this lipolysis effect with natural ingredients including caffeine and green tea. Studies show a significant reduction in double chin, arm and abdominal fat with no serious side effects or complications.
Microneedling
Microneedling is an extremely safe and reliable procedure. Precise punctures with a professional microneedling device such as Genosys Dermafix Pen accelerate the healing process as well as the body's natural growth factors, the body produces collagen and elastin to smooth over irregularities resulting in renewed, plumper looking skin. Microneedling can be used to treat acne scarring, minimise the appearance of wrinkles, areas of pigmentation, visible pores and improve the texture of the skin.
SKINLIGHT MESO®
Lightening solution
Acts as a skin brightener, reduces pigmentation and age-spots. This effective complex is made of ascorbic acid, vitamine C and glutathione. Suitable for face and body treatments.
HA + SKINBOOSTER MESO®
Anti-aging and revitalization complex
Pure and highly concentraded hyaluronic acid, organic silicium and polyvitamin cocktail redensifies the skin and reduces fine lines. Strong skin revitalizer, this treatment also prevents and treats aging signs.
SLIM BODY MESO®
Fat and cellulite reducer
Developed by our slimming specialists, this caffeine – green tea treatment reduces cellulite, activates lipolysis and acts as an efficient fat reducer.
MESOFILLER +
Intensive moisturizer smooth and glow
Pure, highly concentraded hyaluronic acid and sodium phosphate are indicated for skin hydratation, eye contour and dark circles. Efficient for anti-aging preventive action.
Suitable for all ages and skin types.
Radiant is celebrating 10 years of being in business!